Successful Sertoma Street Party!

The support we received from the Knoxville community is overwhelming. Through generous donations and auction winnings we raised $91,875! The relationships we get to make in support of our mission is such a beautiful reflection of the community in which we live! We hope everyone had a wonderful evening at our event!
We want to specifically thank our Fundraising Board Chair—Marcus Hall of Marc Nelson Denim for enthusiastically pursuing the idea of having our event at Sertoma. His commitment, talents and resources really made this event stand out as one of our best and we thank him!
The unique flair to our event started with choosing, for the first time ever, hosting our event at Sertoma. We wanted to shine a spotlight on the heart of where our mission starts. Typically, we have events at beautiful local venues, but wanted to ensure long-time friends and new friends who we really are and that we operate directly within the community we proudly serve. Originally, we had grand ideas to host our "Street Party" in our back parking lot where our maintenance crew worked tirelessly to transform us into a destination venue. However, mother nature and hurricane Ian had other plans for us and within 48 hours we were able to shift gears and create, once again, a beautiful event venue within our four walls upstairs at Sertoma.
Attendees were visibly impressed with the transformation of our center into a festive party scene. Local band Soulfinger created a warm and soulful dance environment with their funk and soul sound. Good fortune continued for us as we had Alabama based 1918 Catering for our meal. They served us Smoked chicken Diane smothered in a brandy reduction sauce, slow smoked beef brisket, Momma's Mac & Cheese, collard green casserole mixed with tomatoes, smoked turkey, and topped with buttermilk cornbread, and finally sweet potato casserole. Complementing our meal was Knox Brew Tours. They provided excellent local brews and crew members to remind us of our fantastic local brew selections and their unique experience to tour many of these breweries. Lastly, we invited a local artist, Bernard Dorsey, to create live paintings that we auctioned during the silent and live auction!
Long-time friend, Beth Haynes of WBIR was once again our emcee and kept our attendees involved with the mission of the evening, while our Executive Director, Lee Freeman, eloquently thanked our attendees and the community that so richly supports us. Plus our auction wouldn't be as successful without the auctioneer stylings of Bear Stephenson.
All in all, Sertoma events always strive to thank everyone for their support, relay the importance of our mission within the community while create a fun and entertaining event for all to enjoy!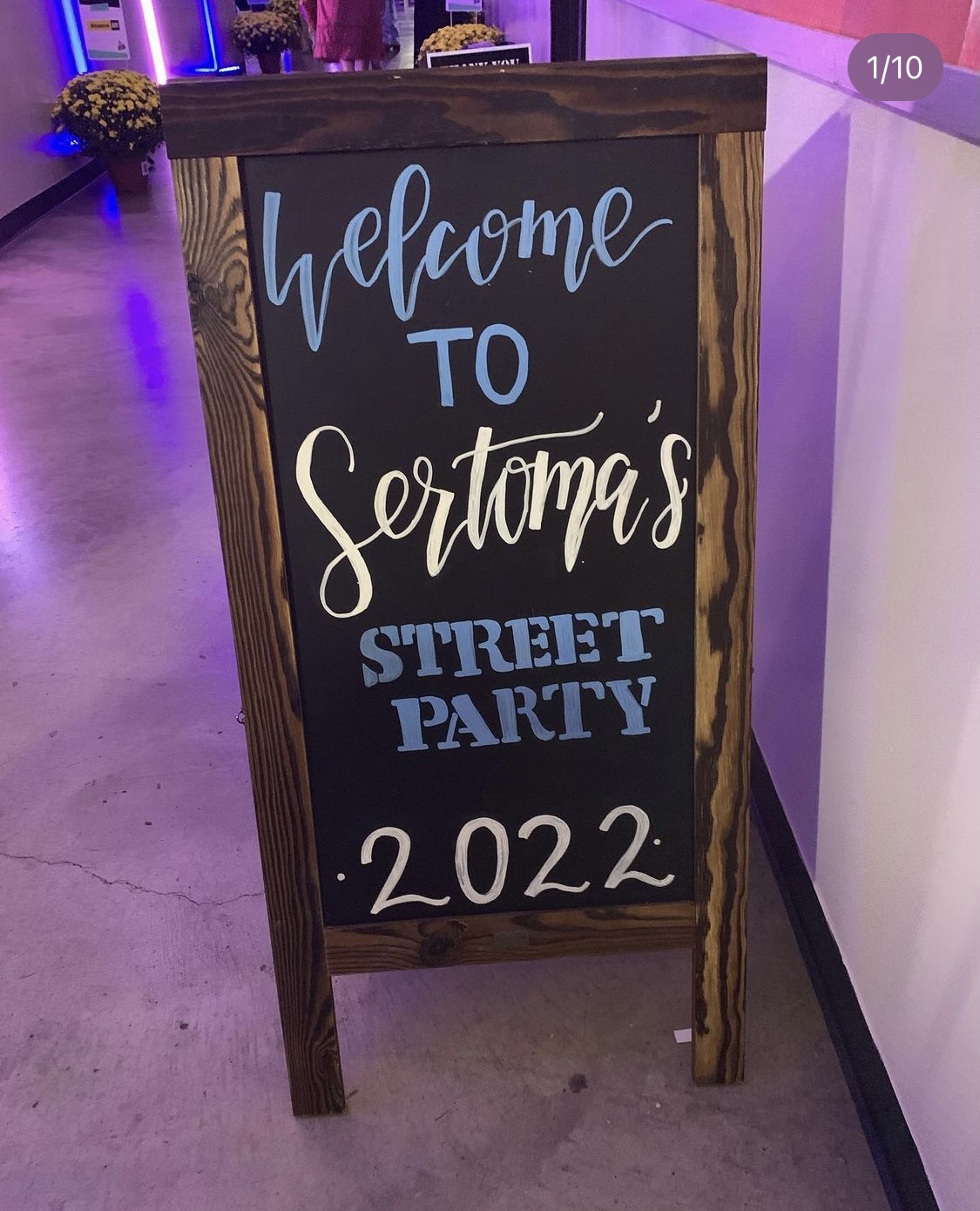 Thank you to all our sponsors and In-Kind donors!
Clayton, Food City, The Pilot Company, Enterprise, Stowers Machinery Corporation, TIS Insurance Services, Inc., UT Medical Center, Covenant Health of East Tennessee, First Horizon Bank, Marc Nelson Denim, Prince Technologies, LLC, Brownlee Realty University of Tennessee, Knoxville, Brown Squirrel, Humana, Knoxville Downtown Sertoma Club, HL Strategy, Baker Donelson Trinity Benefit Advisors McFarland Pharmacy, K.R.I.P.A. Faculty Physicians – HealthStar Surgical Wound Care Associates of TN, Beth Haynes WBIR, Akima Club of Knoxville,1918 Catering, Knox Brew Tours, Soulfinger, Applical Co., Bear Stephenson Katelyn Keenehan – WBIR, Ashes Wine & Spirits