Supported Employment
Sertoma Center believes that employment is the foundation for self-esteem, a tool that maximizes independence and contributes to self-sufficiency. We believe that everyone, no matter how challenged, has the capacity to engage in meaningful paid work.
Our staff develop innovative supported employment solutions for people with disabilities and for businesses. Through Sertoma Center, people who have a disability develop vital skills and become active participants in our communities. We offer businesses the opportunity to reduce recruitment and training expenses as they enjoy the benefits of a diversified workforce.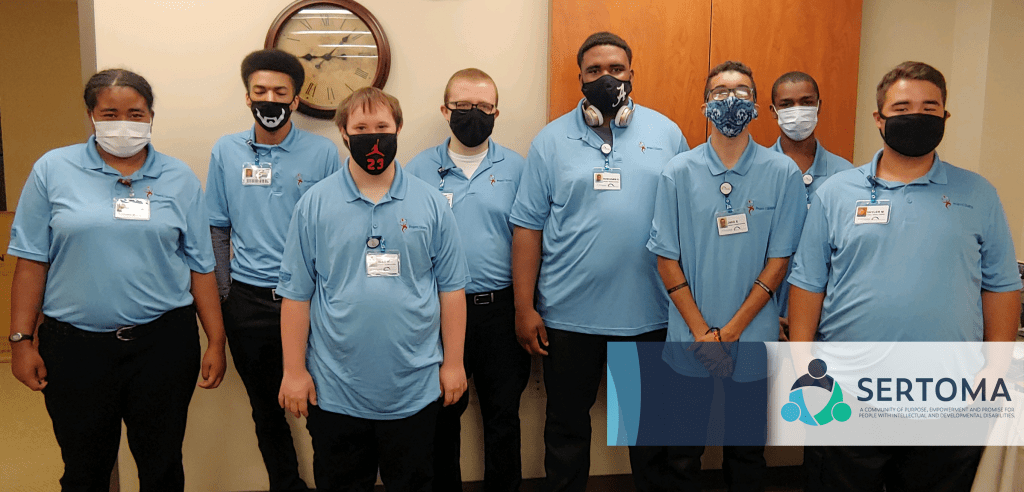 ---
What's the Difference?
ProjectSEARCH and Sertoma offer both an employment program for individuals that are still enrolled in school as well as an adult program for individuals that are no longer involved in the school system.
KNOX COUNTY SCHOOLS–Parkwest Medical Center
10 Months – Unpaid Internship
Ages 18 – 22 (must be enrolled in Knox County School system)
Valid proof of State ID & Social Security card
Updated shot record & flu shot
Ability to function in a smoke/vape free environment
Ability to pass an observed drug screen & criminal background check
Choose to remain in the school system during the program
Willingness to complete the entire internship
Transportation is provided by Knox County Schools
Program operates with a Knox County Teacher, Paraprofessional, & Skills Trainers from Community Resource Partner Agency (Sertoma)
$7.00/day lunch voucher provided by host site
Student has a diploma OR working towards a Special, Alternate Academic or Occupational diploma
Program is funded by Knox County Schools, TN Dept of Human Services, Department of Intellectual and Developmental Disability, Choices, Amerigroup, Blue Care or United Healthcare
Program operates: August thru May on Knox County School calendar Monday thru Friday 8:45am – 3:45pm
End Result: Community Employment
ADULT PROGRAM – East Tennessee Children's Hospital, University of Tennessee Medical Center
9 Months – Unpaid Internship
18 and older (not enrolled in school applications can be from private and homeschool programs)
Valid proof of State ID & Social Security card
Updated shot record & flu shot
Ability to function in a smoke/vape free environment
Program services are available to all in the surrounding counties
Willingness to complete the entire internship
Transportation is available with KAT, CAC, ETHRA
Program operates with an Instructor Coordinator, Skills Trainers from Community Resource Partner Agency (Sertoma & Breakthrough)
Family provides lunch or cafeteria if available
Certificate of Completion, GED, Occupational or Alternate Academic or Special Education certificate
Program is funded by TN Dept of Human Services, Department of Intellectual and Developmental Disability, Choices, Amerigroup, Blue Care or United Healthcare
Program operates: February thru October – Monday thru Friday 8:00am – 3:00pm
End Result: Community Employment
ProjectSEARCH & Sertoma Staff