Destination Dinner-Passport To Hawaii

Destination Dinner-Passport To Hawaii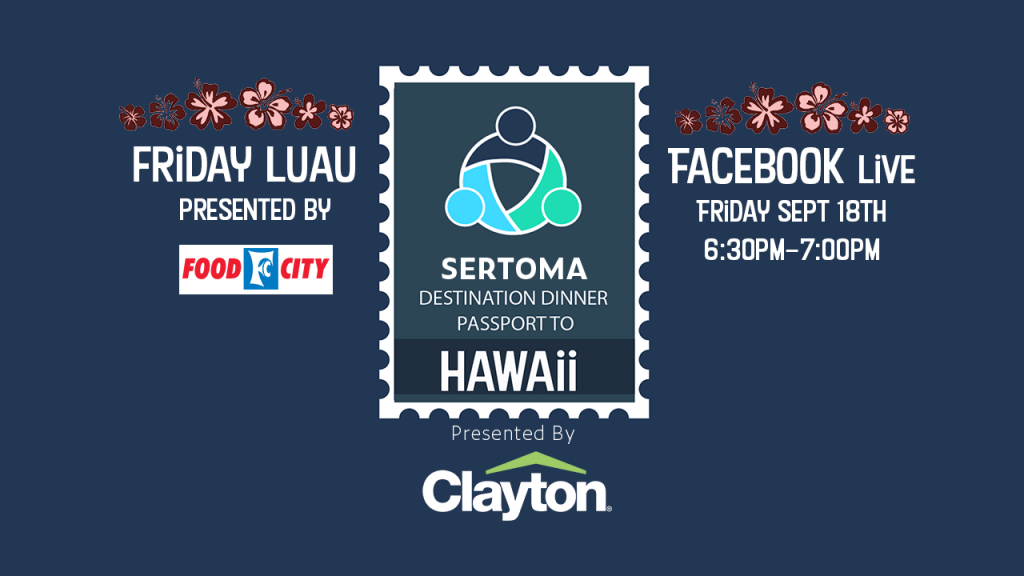 Aloha! Celebrate our annual fundraiser while soaking in the sounds and sights of Hawaii!
Sertoma is pleased to invite you to our annual Destination Dinner & Auction! Typically this would be a live event, but in response to meeting the challenges of COVID-19 this year will be a virtual event. We're excited about the new opportunities virtual offers!
We have planned a fun-filled Hawaiian week theme featuring our services at Sertoma along with offering great items to bid on through our virtual auction. These sponsored videos, along with auction updates, will post each day from Friday September 11th through Friday September 18th via our social media channels and website (see more detail at bottom of this page).
Our virtual auction will close on Friday the 18th with an authentic Hawaiian Luau broadcast live from Gettysvue as well as an opportunity to pick up a Mahalo basket that includes a Hawaiian themed meal and Mai Tais! Bid at our virtual auction now through Friday Sept 18th at 7pm here.
Our annual fundraising events are an integral financial piece to ensure the longevity of our mission to serve our 135 individuals and provide them services, programs and staff. Due to the challenges of COVID-19 this year, we need your support and friendship more than ever! Financial support enables us to provide quality care to individuals with intellectual disabilities and empower them with meaningful work opportunities, recreational therapy, essential social services and top-notch care. We believe that every person can excel, if given the opportunity, and we are dedicated to helping the people we serve achieve their fullest potential.
For information on available sponsorship opportunities click below or contact Mike Smith at [email protected] or 865.607.1791.